Great Basin National Park is one of 60 sites in the United States with a national park designation, and one of 4 National Park Service Sites in Nevada.
Its name is derived from its location in the Great Basin which consists of most of the state of Nevada, western Utah, and parts of southern Oregon.
While not one of the best-known parks in the US, it is one of the better parks, even if it can be somewhat hard to reach.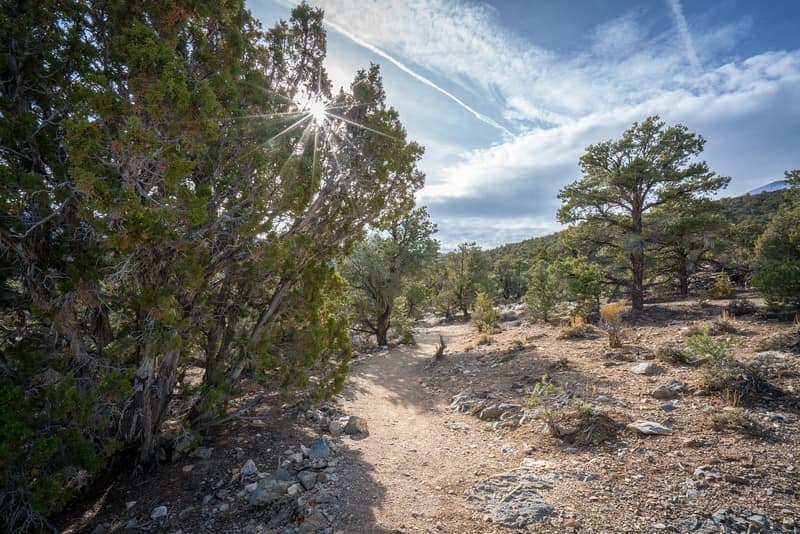 History
Located in east-central Nevada's White Pine County, near the neighboring state of Utah, Great Basin National Park lies amidst the Sierra Nevada and Wasatch Mountains.
The park is approximately 300 miles north of Las Vegas and is comprised of nearly 80,000 acres of protected wilderness.
Due to its elevation and northern location, the park is often spared the grueling summer heat for which Las Vegas is known, and the winters are cold and snowy.
As far back as 12,000 B.C., Paleolithic groups called much of the basin home. According to archaeologists, they lived in small family groups and subsisted on hunting and gathering.
It wouldn't be until much later in the 14th century that the basin's inhabitants would resemble the Native American Paiute and Shoshone people who resided in the area in more recent history.
Excavated sites have revealed that the area's game animals included mammoth, bison and even distant relatives of modern camels.
It's also interesting to note that it is estimated that some of the park's bristlecone pine trees have been alive since nearly 3,000 B.C., making them among the oldest living things in the world.
The Great Basin was first explored by pioneers headed to California in the late 18th century. Later in the mid-19th century, it was traversed by a caravan of U.S. soldiers and their captain who described the area as, 'truly a great basin,' which is the first such reference and how the park got its name.
Though much of the land within the park is pristine, some places have experienced moderate development that mirrors the area's history.
The opening of the west to the Pony Express, railroads and mining were incremental steps that began to transform the old-west into a more developed and less isolated area.
In addition, since part of the federal government's plan to open the west relied on the relocation and elimination of the Native Americans that lived there, it coincided with a military campaign against them and the creation of reservations – some of which wasn't established until the 1930s and '40s.
In the late 1870s, the famous American naturalist John Wheeler explored the area and scaled the mountain that would later bear his name. In 1909, President Theodore Roosevelt designated an area for preservation that was then called the Nevada National Forest, but which is now part of Great Basin National Park.
In 1922, President Warren G. Harding designated the Lehman Caves portion of the National Forest a National Monument, which ultimately led to them becoming an official national park 64 years later in 1986.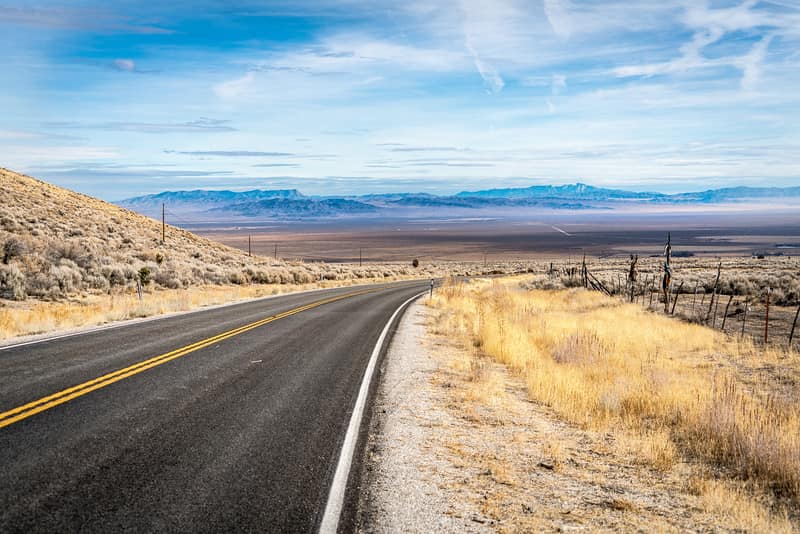 What to see / Sights
Great Basin National Park is a natural wonderland that draws bird-watchers, outdoorsmen and nature lovers from all over the world.
The park is full of an amazing variety of animals, including more than 60 species of mammals, nearly 20 species of reptiles, and well over 200 species of birds. Some of the largest and most impressive mammals include elk, mountain sheep, and even mountain lions or cougars.
Perhaps the park's most notable features are the Lehman Caves, which were discovered in the 1880s.
The dramatic caves were formed over countless eons and resemble otherworldly landscapes. They're home to many interesting animals, some of which are permanent residents and have adapted to life in the nearly lightless environment.
Lexington Arch is another notable park feature; it's one of the largest natural limestone arches in the American Southwest and sits atop a scenic bluff in the park's northern portion near its border with Utah.
What to do / Activities
Checking out the Great Basin and Lehman Caves Visitor Centers would be a great way to kick-off your adventure.
They're both chockfull of exhibits, artifacts and even movie rooms that will give you an interesting and helpful insight into the historic and geologic pasts of the amazing things you'll see.
One Lehman Caves Visitor Center icon that you'll want to check out is the 'Forgotten Winchester.' It's a Winchester rifle manufactured in the 1880s that was discovered resting against a tree in 2014; it had supposedly been resting there untouched for possibly a century or more.
If exploring the park's natural wonders on foot sounds like your cup of tea, then you'll appreciate its 12 trails that range from a few tenths of a mile to nearly 14 miles long. The trail leading to Wheeler Peak's summit starts at an elevation of more than 10,000 feet and will require significant exertion; it should only be attempted by physically fit and experienced hikers. There are plenty of options for the young, elderly and less fit too.
Fishing, bird-watching, and stargazing are also popular activities, though you'll need to purchase a fishing license before you wet a line.
Photography Tips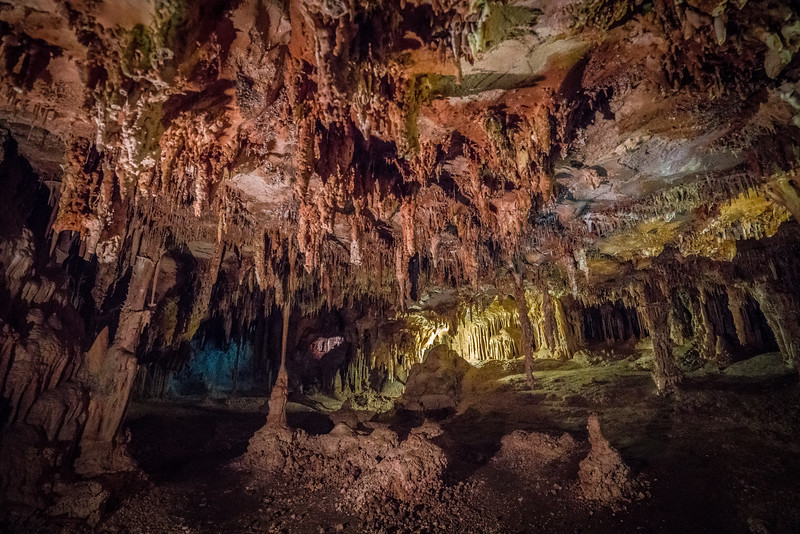 For diehard shutterbugs, Great Basin National Park may be an overwhelming environment due to its near overabundance of scenic vistas, amazing plants and animals, and dramatic geologic formations.
If you'd like to capture the park's animals on film, remember that most of them are active in the morning and early evening hours, so plan accordingly.
The park's sunrises and sunsets are amazing too and are especially easy to see by those who've chosen to camp in one of the many available campgrounds.
Of course, views of Wheeler's Peak and Lexington Arch are musts as well; there's even an after-hours cave photography tour which is appropriate for amateurs and experts alike. This activity requires a special permit, however, so ask at the visitor center for details.
It should be noted that tripods are not allowed inside Lehman Cave on public tours. If you want to bring a tripod, you need to arrange it beforehand with the park office. There will probably also be a fee of around $100 because a ranger will have to escort you. The image taken above was a handheld shot taken at ISO 25,000, so it is possible to get around using a tripod if you have a good low light camera.
If you visit in the summer, you can photograph the bristlecone pines which are in the park. A popular photo is to photograph the trees with a circular star trail or the Milky Way in the sky.
Where to Eat
Due to the rugged and remote nature of the park, the dining choices are understandably slim but there are a few convenient, tasty and reasonably priced options that'll keep you fueled for your trip.
Ely, Nevada's Cellblock Steakhouse is probably the most upscale dining you'll find in the area. This dimly-lit hotspot is fashioned like an old-time jailhouse; each table is a cell complete with metal bars. Hearty steaks are the house specialty and there's a full bar too.
If you've only got time to grab a cup of hot coffee on the go, swing by the Magic Bean Coffee Cart in Baker. It's just a few miles from the park and in addition to delicious coffee, they serve sandwiches and sweet rolls.
Also located in Baker, the Great Basin Café offers hot food cooked to order at reasonable prices. Customers appreciate the ample servings and beautiful vistas from the dining room. You won't find anything fancy on the menu, just homemade comfort food served in a pleasant environment with attentive staff.
Operating Hours
The Lehman Caves Visitor Center and park entrance are open every day from 8:00 AM to 5:00 PM in the summer months, and from 8:00 AM to 4:00 PM during the fall, winter, and spring.
They're closed on Thanksgiving, Christmas and New Year's Day.
The Great Basin Visitor Center is only open during the summer tourist season from 8:00 to 5:30 and closed the rest of the year.
Please keep in mind that hours of operation are subject to change, so be sure to check online or call before you go to make sure they'll be open when you'll be there.
Where to stay
Hotels
Nearby Ely Nevada is your best bet for lodging during your trip to the area. The Wyndham Ramada is full of convenient amenities like a heated swimming pool, hot tub, free Wi-Fi and an onsite restaurant and casino. Some rooms even have kitchenettes with fridges and microwaves. If you'd like to save a few bucks and make your own coffee and meals, make sure you confirm this option well in advance, as these rooms fill up quickly, especially during the summer.
Also in Ely, the Magnuson Hotel Park Vue has many of the same amenities, including non-smoking rooms and a free daily continental breakfast. Pets are welcome for an additional charge and it's conveniently located near two casinos. The Nevada Northern Railway Museum, which is an interesting site worth seeing, is only a 10-minute walk away.
Camping
Great Basin National Park sports five developed campgrounds, each of which is full of camper-friendly amenities like toilets, picnic tables, and built-in barbecue grills. Keep in mind that each site is limited to eight people and two vehicles and there aren't any showers, so be sure to bring plenty of deodorant and wet-wipes. If you'd rather get away from the crowds and forgo the aforementioned amenities, there is an undeveloped camping area along Snake Creek Road.
Only Lower Lehman Creek Campground is open all year; the other's opening and closing dates are dependent on the weather and vary from year to year, so it's important to check the current conditions feature on their website to make sure they'll be open when you're around.
The fee for developed campsites is $15 per night, and $7.50 for undeveloped ones, though these prices are subject to change as well.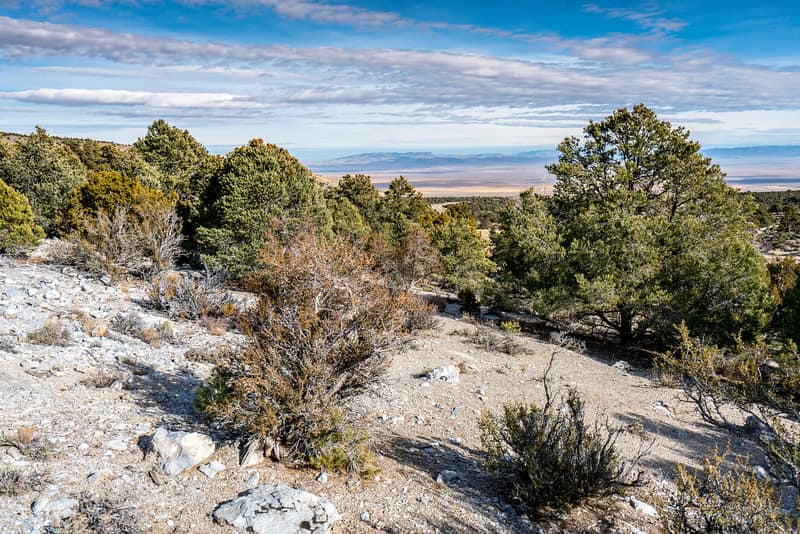 How to get there
Airports
The nearest regional airport to Great Basin National Park is Cedar City, Utah – nearly 150 miles away.
Connecting flights from Salt Lake City International Airport and McCarran International Airport in Las Vegas are available, as are ones to Ely's Yellan Field if you don't mind the short flight in a small turboprop.
By Car
If you plan to rent a car and drive in on your own, be sure to make reservations beforehand, as the cars may be in short supply during peak summer months, especially if you are flying into Las Vegas or Salt Lake City.
If you're an international visitor, you'll need to bring plenty of identification and an internationally recognized driver's license for insurance purposes. If this is the case, it's important to verify exactly what you'll need well in advance of your trip.
There are northern routes through Minersville and Frisco via Nevada Routes 129, 130 and 21, and west-southern route through the towns of Modena, Panaca, and Pioche via Nevada Routes 56 and 319, and U.S. Route 93.
The park's entrance is five miles west of Baker and its distance from Salt Lake City is 235 miles, and 286 miles from Las Vegas.
Winter driving in these areas can be treacherous, so check the weather reports before heading out.
Public Transportation
Due to the vastness and remoteness of the area, public transportation options are almost non-existent. Even Greyhound – the largest bus-line in the country – won't get you much closer than an hour drive from Great Basin National Park if you take a bus from Cedar City, Utah.
Cost
There are no park entrance or parking fees when visiting Great Basin National Park.
If you'll be staying at one of the park's campsites, you'll pay $15 per night for a developed campsite and $7.50 per night for an undeveloped one.
Guided tours of the park's caves are available for either 30, 60 or 90 minutes, and cost $2, $6 and $8 respectively.
National Park Passport Stamps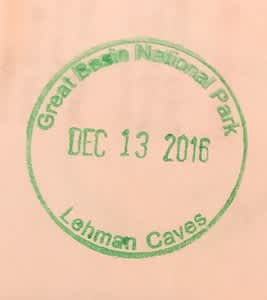 The national park passport stamp for Great Basin can be found in the Lehman Cave visitor center. There may still be stamps from the park centennial year available there as well. As with all national parks service sites, you can purchase passports and the annual sticker set at the visitor center gift shop.

Weather
Though much of Great Basin National Park is located within Nevada's arid high-country, it's usually much milder in the summer than other southwest locations like Phoenix and Las Vegas – both of which are known for their brutal summer heat.
Winters in the park are very cold and windy as well. Historically, the area's annual snowfall has been in the 40-50 inch range, although there are years when that number is significantly higher, especially at greater altitudes like Wheeler's Peak.
Despite the weather outside, the conditions inside Lehman Caves are a constant 50 degrees Fahrenheit with a humidity level of nearly 90%.
Shopping
As you may have already guessed, Great Basin National Park and the surrounding areas aren't exactly what you'd call shopping meccas. If they were, it would almost certainly diminish the rugged and largely untouched splendor that makes the park such an amazing draw in the first place.
Both visitor centers, however, have wonderful gift shops full of books, clothes and lots of other interesting and reasonably priced keepsakes that'll be great reminders of your trip.
Worth stops are TJ's Gifts and Jewelry on Aultman Street and Flower Basket on East 11th Street – both in Ely. TJ's carries an array of cards, jewelry, and gifts, and Flower Basket is known for its natural beauty products; it is part café too that sports delicious coffee, cappuccino, and lattes.
---
View the complete list of United States National Park.