Last Updated on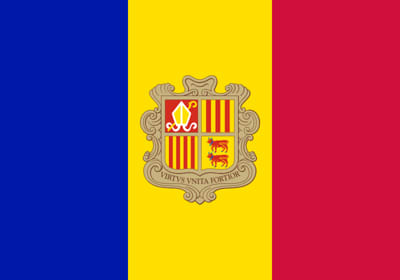 Andorra is a small country, but an extremely interesting country. This tiny country has one of the most unique histories and cultures in Europe and there is much about it which is interesting. Here are interesting facts about the country of Andorra.
1) Andorra is a country
OK, maybe most of you probably know this, but there are a lot of people out there that have no clue that Andorra is actually a country. One woman I spoke with visited the US and people didn't believe there was a country called Andorra. Yes, it does exist and has been around in some form for almost 1,000 years. It has a seat in the United Nations, an Olympic team and diplomatic relations with other countries. It is a real country.
2) Andorra is small
It is the 16th smallest country in the world by land and the 11th smallest by population. It is only about 40km to drive from one side of the country to the other. The total population of Andorra is about 85,000 which includes citizens and residents. What is even more shocking is that despite its small size, the vast majority of the buildings are located at the bottom of the valleys because so much of the land is mountainous.
3) Andorra produces a lot of Tobacco
One fact that surprised me here is how much tobacco is produced in Andorra. It takes up a lot of what little farming space exists here. There used to be a cigarette factory in Andorra and because of its status as a tax haven, you can purchase cigarettes here much cheaper than you can in Spain or France. Cigarette smuggling has been a long problem (tradition) in Andorra where people would head up to the mountain tops to take smokes into Spain or France. Andorra is also one of the few places in Europe where you can still smoke indoors in public places.
4) Andorra is the world's only co-principality
A principality is a place ruled by a prince. Monaco is an example of a principality. Andorra, however, is a co-principality. They have two princes who jointly share the title of prince. Neither of the two is from Andorra, however. One is the President of France, who is currently Emmanuel Macron. The other co-prince is the Bishop of Urgell who is currently Joan Enric Vives Sicília. The position is a constitutional one similar to the British Monarchy and holds no real power. Except for limited things, the two princes must exercise their authority together, not separately. They are the only country where one of their heads of state (the President of France) is democratically elected by another country. The other prince (the bishop) is appointed by the head of state of another country (the Pope).
5) Andorra is the only country in the world with Catalan as its official language
Catalan is spoken in Spain, bits of France and an even smaller chunk of Sardinia. However, the only country where it is the official language is in Andorra. I'm sure there are many people in Catalonia, however, who would like there to be at least one more country :)
6) Andorra has never been in a war in almost 1,000 years
Given its non-strategic location in the Pyrenees Mountains and lack of natural resources, Andorra has been without conflict almost since Charlemagne came through to fight the Moors. Technically, Andorra did declare war on Germany in WWI but never sent anyone into the conflict. Given Andorra's lack of participation in WWI, they were forgotten about in the Treaty of Versailles and didn't officially declare peace with Germany until 1957!
7) Andorra has no national bank and has never had its own currency
Andorra currently used the Euro as its currency. Before that, it primarily used the Spanish Peseta and sometimes the French Franc. There is no national bank in Andorra so it has to go to private banks if it wants to incur debt.
8) Andorra is not part of the EU, EFTA or the Euro zone
Andorra is not a member of most of the major European associations. Even though they use the Euro, they are not technically part of the Eurozone. They have a special relationship with the EU in which they follow their trade rules for industry, but not for agriculture. They are also not a party to the Schengen Treaty, however, you can only access Andorra via Spain and France which are party to the treaty and they don't have an airport, so they are de facto subject to the agreement.
9) Andorra la Vella, is the highest capital city in Europe.
At an elevation of 1,023 meters (3356 feet), there is no other capital in Europe which is higher. In fact, it is the 10th highest city of any kind in Europe with a population over 10,000.
10) The flag of Andorra is strikingly similar to the flags of Chad, Romania, and Moldova.
All four of the flags have the same color combination. They have 3 vertical strips of blue, yellow, and red. The flags of Andorra and Moldova have their national crest on the flag which is really the only way you can tell the flags apart if you see them flying.
11) Andorra has the 8th highest life expectancy in the world.
With a life expectancy of 82.9 years, Andorra has the 8th highest life expectancy in the world. With the exception of Japan, every other country with a higher life expectancy is also a small country or a small territory: Monaco, Singapore, Macau, San Marino, Iceland, and Hong Kong.
12) Andorra has the most tourists per capita in the world.
With over 10,000,000 visitors per year and a population of only 77,000, Andorra has most visitors in the world per capita. The vast majority of the visitors to Andorra are Spanish and French citizens who go there to shop and purchase fuel at cheaper prices.
13) Andorra was late in joining the United Nations.
Even though the United Nations was founded soon after the end of WWII, Andorra didn't join the UN until 1993. Andorra waited 48 years to join the UN. In particular, they waited until the end of the Cold War as to not violate their neutrality. They also joined the Council of Europe in 1993, the same year they adopted a new constitution and formally became a parliamentary democracy.
14) France occupied Andorra in the 1930's.
In order to prevent the Spanish Civil War from spreading into Andorra, France sent a force to occupy the country in 1936. They remained in place until 1940, when the Vichy government came to power in France.
15) Andorra was neutral in WWII.
Andorra took no side in WWII. After the German invasion of France, the Germans had an outpost on the French side of the border but never had troops inside the country. Andorra was often used for smuggling during the war, and French partisan forces often took downed allied pilots there to safety.
16) Andorra has never won an Olympic medal.
Despite having been represented at every Olympic games since 1976, Andorra has never won an Olympic medal. Despite being a major area for downhill skiing, they have never won a medal, even though Liechtenstein, an even smaller country, has won 10 in Alpine skiing.
17) A Russian adventurer once claimed ownership of Andorra.
On July 6, 1934, Boris Skossyreff claimed to be the sovereign of Andorra and got the support of Andorra's General Council. On July 8, he proclaimed himself Boris I, King of Andorra and declared war on the Bishop of Urgell, one of the co-princes of Andorra. On July 20 he was arrested by the Bishop of Urgell and expelled from Spain.